Modular Homes by Select Homes, Inc.
Modular homes are the most cost effective new homes you will find in the North Carolina Piedmont.
Select Homes, Inc. builds True Modular™ Built Homes in North Carolina. Our corporate office is located in Randolph County Asheboro, NC.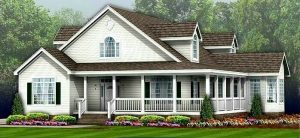 True Modular™ means better built. They are set "off-frame" on a permanent foundation with a crane. Differences between modular homes and conventional site built homes are improvements. The two biggest advantages of True Modular™ Homes are price and time from building permit to Certificate of Occupancy.
Select usually has about 15 modular display models located on 3 model centers which you may tour in person. All the models are heated or air conditioned for your comfort.
New! The Seagrove floor plan » is now on display in Mocksville NC. Open House this Saturday and Monday.
How much do modular homes cost?
Modular homes built on an average 40″ foundation may cost as little as $85 per square foot; That's a huge savings over inefficient site built construction. You'll not only save money, you'll save time as well.
I can estimate your entire construction project on your land according to your budget. The first thing we decide is what you want included, then price your project including everything you need.
See the top ten modular home floor plans »
Call 1-800-FACTORY (322-8679)
Select Homes, Inc. Mack Rd. & NC Hwy 49
The DOT has finished the Mack Rd. and NC Hwy 49 intersection. Next they plan to 4-lane NC Hwy 49 from Albemarle Street bridge to the southwest by-pass. During the construction process, the new display model homes are being built in Mocksville NC location at Exit 170 on I-40, 10 minutes west of Winston-Salem. You may tour most of the top 10 floor plans from our Select Modular Homes Floor Plan page at the Mocksville location.