The Greensboro by Select Homes, Inc. is the latest 4 bedroom floor plan. This spacious modular home plan features 2 full baths with a luxury tub and double shower en-suite. The large open concept kitchen is perfect for the chef in the family. The kitchen features a barnhouse sink and the latest upscale appliances; Built with a livingroom and den, there is room for everyone.
Notice: Floor Plan now 26′-10″ wide
Select Homes, Inc. features hundreds of floor plans; Available with Ranch, Cape Cod, and Two-story elevations.
The Greensboro 4 Bedroom Modular Home

Select Homes, Inc. builds True Modular™ Homes on your land in our market area in North Carolina.
The standard floor plan is 1,750 square feet, although you may stretch the size to 2,280 if more room is needed.
Gable Roof Porch
The 4 bedroom Greensboro display model features an optional gable roof porch which may be built on most Select homes.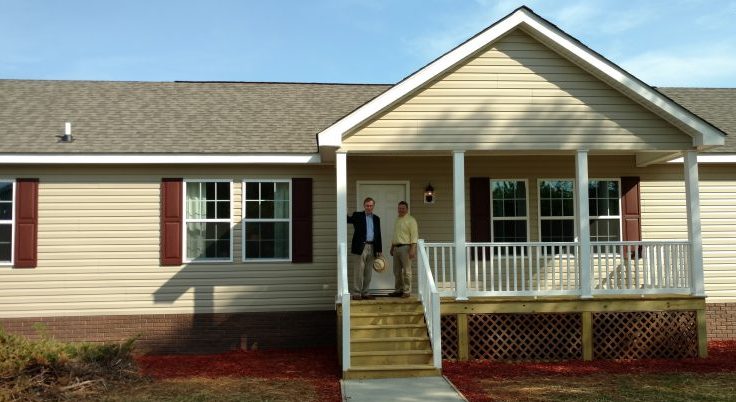 Select Homes, Inc. is open Monday through Saturday, except Christmas, Easter, and Thanksgiving. There are now 3 Select locations with the top modular home floor plans on display. Tour the model homes at your leisure.
Select Homes, Inc. prices your total project on your land within your budget and guarantees the best price in the Select market area. See the map on the Select Homes, Inc. model center locations page.
True Modular™ means better built and is an exclusive Select Homes, Inc. trademark term. Every difference from site built is an improvement.
See The Greensboro soon. Tour the number one modular home center in the country in Mocksville, NC and experience southern hospitality plus the latest in new home concepts and upscale amenities. Located at exit 170 on I-40 west of Winston-Salem, NC.
View more modular home floor plans »
Select Homes, Inc. Mocksville
All prices and specifications are subject to change without notice. Meet with a modular home design specialist for details.